The All-Tow Ally 3000A Trailer has a GTM of 3500kgs and a Tare of 500kg.
The All-Tow Ally 3000A Aluminium Trailer: A Premium TOWING Solution
When it comes to heavy-duty hauling, the All-Tow Ally 3000A Aluminium Trailer stands head and shoulders above the competition.
Designed with superior craftsmanship and a host of exceptional features, this trailer is built to tackle any load with ease. Let's dive into the impressive standard features that make the All-Tow Ally 3000A a top choice for carrying mini excavators and skid steer loaders.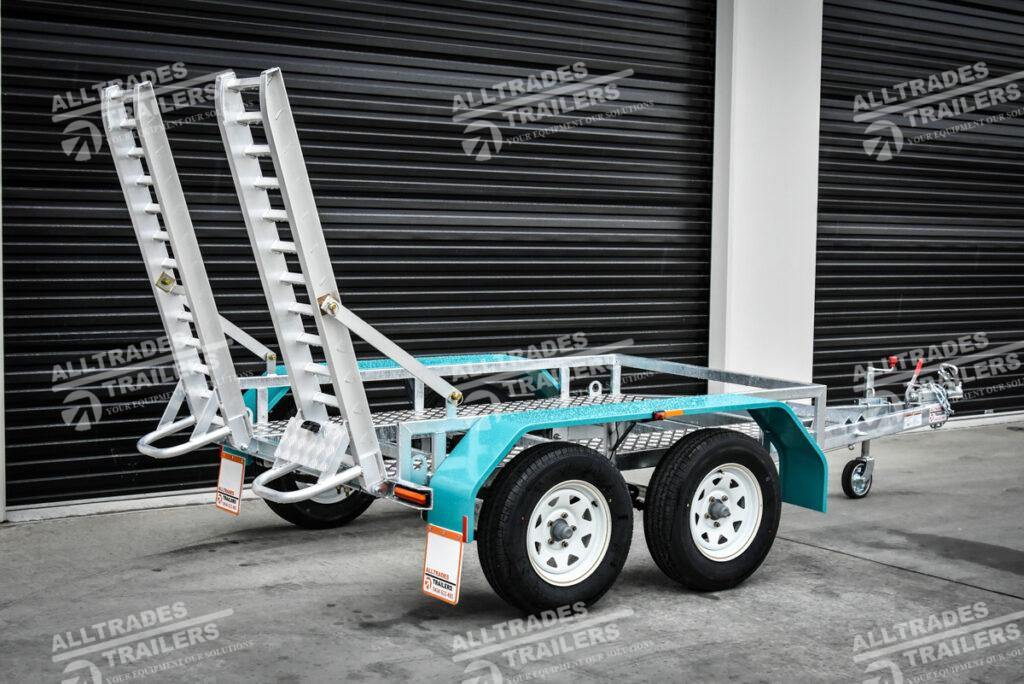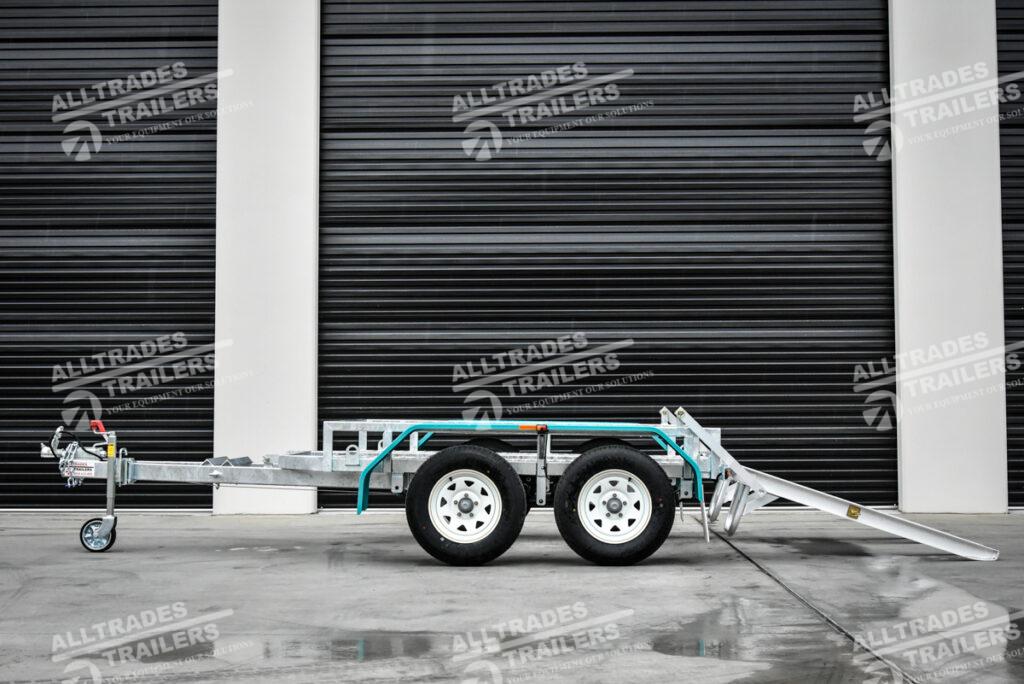 Carrying Capacity 2.5TN:
The All-Tow Ally 3000A boasts an impressive carrying capacity of 2.5 tons, making it ideal for transporting heavy machinery.
With this aluminium trailer, you can confidently take on challenging loads without compromising safety or efficiency.
4 Wheel Electric Brakes:
Equipped with four-wheel electric brakes, the All-Tow Ally 3000A ensures optimal stopping power and control.
Whether you're navigating steep inclines or sudden stops, these brakes provide reliable performance, enhancing overall safety on the road.
Brake Away:
Safety is paramount, and the All-Tow Ally 3000A prioritises it with a built-in brake away system. In the event of a trailer detachment, the system activates the brakes, bringing the trailer to a controlled stop, preventing accidents and damage.
14″ Wheels:
To tackle various terrains with confidence, the All-Tow Ally 3000A features 14-inch wheels.
These sturdy wheels provide stability and durability, allowing you to navigate rough roads or uneven surfaces without compromising the trailer's performance.
6 Leaf Rocker Suspension:
Thanks to its six-leaf rock roller load share suspension system, the All-Tow Ally 3000A aluminium trailer delivers a smooth and comfortable ride.
This suspension system absorbs shocks and vibrations, minimising the impact of uneven roads and providing better load protection.
12-24 Volt Lights:
The All-Tow Ally 3000A comes equipped with versatile 12-24 volt lights, ensuring optimal visibility in all lighting conditions.
Whether you're hauling during the day or night, these lights illuminate the trailer, enhancing safety and convenience.
Choice of Guard Colour:
Personalisation is key, and the All-Tow Ally 3000A offers a range of guard color options to suit your preferences. Whether you prefer a classic black, a vibrant red, or any other color, you can customise the trailer to reflect your unique style.
Fold-Up Ramps:
Loading and unloading equipment is a breeze with the All-Tow Ally 3000A's fold-up ramps.
These ramps provide a convenient and efficient solution, allowing for easy access and minimising the time and effort required to load and unload your machine.
Tie-Down Points:
Securely fasten your load with the All-Tow Ally 3000A's built-in tie-down points.
These strategically placed points enable you to secure your cargo using straps or ropes, ensuring it remains stable and secure during transit.
Bucket Carriers/Wheel Stop:
The All-Tow Ally 3000A is equipped with bucket carriers providing additional functionality.
These features allow you to transport buckets securely, maximising the trailer's versatility and convenience.
50mm Hitch:
With a robust 50mm hitc, the All-Tow Ally 3000A ensures a secure connection to your towing vehicle.
This hitch is designed to withstand heavy loads and provide stability, allowing you to tow with confidence.
Jockey Leg:
Maneuvering the trailer becomes effortless with the All-Tow Ally 3000A's jockey leg.
This leg allows you to effortlessly position the trailer when it's detached from the towing vehicle, making parking and storage a breeze.
Contact Alltrades Trailers today for more information on our quality aluminium trailers. We're here to help.
Optional Extras
Load Restraint Kit
QLD and NSW Reg Available
Spare Wheel & Bracket
Jerry Can Holders
Auger Drive and Drill Holders
Specs
O/A Length – 5.2m
A Frame – 2.2m
Bed Dimensions – 2.4m x 1.5m